Gumbo Life
Tales from the Roux Bayou
Press notices..."Gumbo Life" is a hit...
Publishers Weekly: "A piquant history of gumbo...Wells clearly knows his stuff, and his enthusiasm for the region and cuisine is palpable. This is required reading for gumbo aficionados and addicts, and those who aspire to be."
"Wells does a masterful job of weaving a history and cultural context for the popularity and endless variations of gumbo today. "
--Chicago's Third Coast Review
"Excellently written, Gumbo Life is an intriguing, diverse story in the ecology of local food, worthy of every foodie's library. It includes a glossary of terms and a section of authentic gumbo recipes.
--Jackson (Miss.) Clarion-Ledger
"If anyone can get away with comparing the mixed-heritage culture of Louisiana to a gumbo, and do it with nuance and depth, it's the longtime journalist and Cajun country native Ken Wells...a deeply reported look at the origins and variations on gumbo."
"A biography of a way of life for us Cajuns..."--Gary Lavergne
"Fans of regional American cooking, history, and storytelling will enjoy this literary ramble in the Louisiana Gumbo belt."
"Wells fondly and entertainingly shares his rural upbringing in 'Gumbo's Pantry, 'the great sweep of woods, fields, bayous, bays, marshes, and swamps." -- Robert Davis, New York Journal of Books
Booklist: "Wells, who delights in playing with language to create sound pictures ("roux awakening," "roux bayou"), has meticulously traced gumbo's influences... Anyone fondly recalling gumbo in its myriad guises will find plenty to savor here."
Kirkus: "Affectionate portrait of that favorite Cajun comfort food and the tradition from which it came."
"With a conversational, folksy, poetic style, Wells' 'Gumbo Life' may be one man's search for the perfect gumbo recipe, but is also a tale about all of Louisiana and the many cultures that make up the state and its food traditions."--Louisiana Life
A Lemuria bookstore pick for its Nonfiction First Edition Club.
An Amazon Best Books in Category Pick .
A Garden & Gun Magazine Must Read.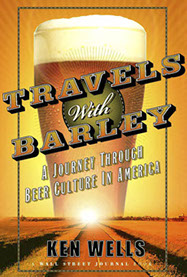 Travels with Barley
Do beer-yeast rustlers really exist?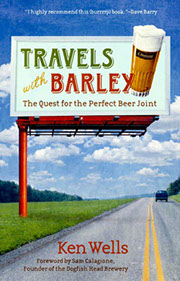 Who patented the Beer Goddess?
How can you tell a Beer Geek from a Beer Nazi?
Does Big Beer hate Little Beer?
And where exactly is Beervana?
Ken Wells, a novelist, Pulitzer-Prize finalist and longtime Wall Street Journal writer, answers these questions and more by bringing a keen eye and prodigious reportage to the people and passions that have propelled beer into America's favorite alcoholic beverage and the beer industry into a $75 commercial billion juggernaut, not to mention a potent force in American culture.
Travels with Barley is a brisk, literate narrative through the precincts of the beer makers, sellers, drinkers and thinkers who collectively drive the mighty River of Beer onward. The heart of the book is a journey along the Mississippi River, from Minnesota to Louisiana, in a quixotic search for the mythical Perfect Beer Joint—a journey that turns out to be the perfect pretext for viewing America through the prism of a beer glass.
Along the river, you'll visit the beer bar once owned by the brewer, Al Capone; glide by The World's Largest Six Pack; and check into Elvis Presley's Heartbreak Hotel to plumb the surprisingly controversial question of whether Elvis actually drank beer. But the trip also includes numerous detours up quirky tributaries, among them: to an Extreme Beer maker in Delaware with ambitions to make 50-proof brew; to the murky world of beer-yeast rustlers in California; to the portals of ultimate beer power at the Anheuser-Busch plant in St. Louis, where making the grade as a Clydesdale draught horse is harder than you might imagine.
Entertaining, enlightening, and written with Wells' trademark verve, Travels with Barley is a perfect gift--not just for America's 84 million beer enthusiasts but for all discerning readers of flavorful non-fiction.
Hear Ken talk beer on YouTube at a Google Authors event.
"I highly recommend (burp) this book!" --Dave Barry
"Any man who can convince his publisher to pay him to travel across the country drinking beer deserves to be taken seriously." --Michael Lewis, author of Liar's Poker, Moneyball and The Big Short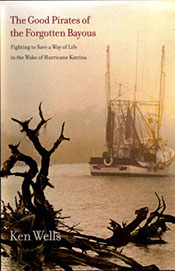 The Good Pirates of the Forgotten Bayous
With a long and colorful family history of defying storms, the seafaring Robin cousins of St. Bernard Parish, La., make a fateful decision to ride out Hurricane Katrina on their hand-built fishing boats in a sheltered Civil War-era harbor called Violet Canal. But when Katrina springs some cruel surprises, Violet is overrun by killer surges--and the Robins must summon all their courage and seamanship to save themselves and scores of others suddenly cast into their care. Louisiana native Wells provides a close up look at the harrowing landfall of the storm and the calamitous 72 hours afterwards in a forgotten New Orleans backwater populated by the descendants of pirates, Cajuns and Spanish pioneers. Wells then follows his characters for more than two years as they try to rebuild their lives and livelihoods in the battered but beloved low-country that has nourished their singular American culture for centuries--a place and culture whose survival is far from guaranteed.
Ultimately, this is a story about the longing for home, and the determination of a proud bayou people to reclaim, against formidable obstacles, a sense of home in a place where the world has been forever rearranged.
"Adventure storytelling of the first order."--The Atlanta Constitution
"Vivid prose...heartbreaking reporting."--Publishers Weekly
Winner of the 2008 Harry Chapin Book Award
Floating Off the Page/Herd on the Street/Collections from The Wall Street Journal
What, you may ask, are feuding nudists, dueling translators of the Bible into Klingon, and the makers of high-quality prison underwear doing on the front page of "The Wall Street Journal?"" Veteran "Journal" reporter and Page One editor Ken Wells provides the answer in this collection of the most entertaining and memorable pieces from the renowned "middle column" of the "Journal."
On any given day, millions of "Journal" readers put aside the serious business and economic stories of the day to focus first on the paper's middle column -- the "A-hed" in "Journal" parlance. There, they find these stories and more, pieces that cover unexpected, odd and amusing topics that readers unfamiliar with the "Journal" wouldn't expect to find in so august a publication, stories crafted with wit, whimsy and wry understatement that are the hallmarks of the "Journal's" best writing. Here are just a few:
*How to throw your grand piano 125 yards
*Is golf played up the side of a bear-infested mountain in blizzard conditions still really golf?
*Why more people than you might imagine get a kick out of smoking toads.
*How we found the biblical Garden of Eden, just past the orange juice factory.
*The very latest developments in sheep orthodontia.
The bit of high-profile real estate that the middle column occupies once held a tip sheet on the stock market, until legendary managing editor Barney Kilgore decided to introduce a tonic or a diversion -- a story so light that it has been said to "float off the page." Ever since, the middle column has been a daily haven for harried business readers.
With selections chosen by Ken Wells, one of the Journal's most accomplished writers and feature editors, the book is the perfect elixir for "The Wall Street Journal's" millions of regular readers, and for all admirers of innovative prose.
"A terrific collection of the most memorable stories from the off-beat front-page column..."--Publishers Weekly
Herd on the Street
Goldfish surgeons?
Pets on Prozac?
A Hollywood agent for bugs?
A law requiring farmers to spend 'quality time' with their pigs?
Truth is sometimes stranger than fiction is this funny, spritely,
often provocative collection of five decades of animal stories from The Wall Street Journal.
"Artful storytelling."--Booklist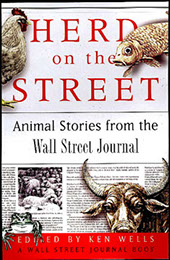 See Ken's C-Span discussion of the history of The Wall Street Journal's treasured
"middle column" Page 1 story.