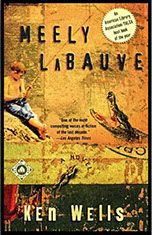 Meely LaBauve, Junior's Leg and Logan's Storm are Wells' seminal works, making up his Catahoula Bayou Trilogy. Meely tells the story of Emile LaBauve, a runty but precocious 15-year-old raising himself on the lonesome end of Catahoula Bayou. He is brave and buoyantly optimistic despite the death of his mother years before, the frequent absence of his wayward but loving (and still grieving) father and the poverty into which he has descended. School for Meely is long walk down a dusty road on the days he's not too occupied trying to shoot his supper. Atop all that, he has to deal with the predations of Junior Guidry, the bayou bully, who considers badgering Meely his favorite sport and whose bad intentions inform the plot. From Meely's encounter with first love in Cancienne's corn patch to a calamitous car chase down a winding gravel road, Meely is brisk, lively story-telling in a voice that is singular and unfaltering. It will take a flying gator, some well-place red ants and an unflappable country lawyer to try to set things right.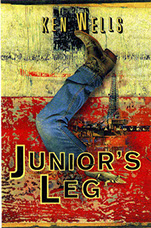 In Junior's Leg, Wells stands the story on its head and takes on the darkly comic and redemptive tale of Junior Guidry, who,15 years out of Catahoula Bayou School, is living one-legged, divorced and depressed in a storm-damaged double-wide trailer on the edge of a dismal swamp. He intends to drink himself to death after squandering a huge settlement from an oil-rig accident that cost him a leg a decade before. Enter Iris Mary Parfait, a good woman (and, it turns out, a distant cousin of Meely's) running from a bad, bad man. She invades Junior's dilapidated dwelling seeking shelter, thinking it abandoned, Discovering the dissolute Junior, she repels his coarse efforts to evict her, then sets about to reform more than his drinking habits. When Iris Mary's past catches up with her, Junior faces the choice of his life--to reclaim his fortune or redeem himself as a man.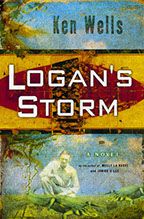 Logan's Storm tells the epic story of Meely's father, Logan LaBauve who, in Meely LaBauve, is on the verge of being framed by Junior and his racist uncle, a local cop. The reason: Logan has come, brandishing a shotgun, to the rescue of Meely and Meely's black friend, Chilly Cox, after Junior and Uncle waylaid them after Meely got the better of Junior in an earlier school-yard altercation. No Guidry can allow himself to be humiliated by a LaBauve. Logan is already known to the law as a hard-drinking hell raiser and Meely, figuring the deck is stacked against his dad, advises him to flee and take Chilly with him. Thus begins an odyssey that takes Logan clear across the treacherous wilds of the Great Catahoula Swamp (and the Jim Crow South) on a mission to take Chilly to the safety of family in Mississippi. That accomplished, Logan strikes out for a job on a gator farm in Florida with a new-found love interest--a journey that takes him straight into the path of a killer hurricane welling up out of the Gulf. It will take all of Logan's courage and swamp cunning to save himself and those thrust into his care.
What the critics say...
"One of the most compelling voices in fiction of the last decade"--The L.A. Times on Meely LaBauve
"A wild Southern rollercoaster ride"--Publisher's Weekly on Logan's Storm
"Flavorfully entertaining, salty and good..."--Richard Bernstein, The New York Times. on Junior's Leg