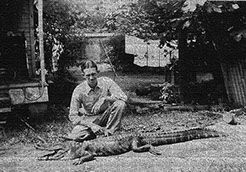 When I was nine years old my father, Rex Wells, moved us from the not-so-big town of Houma, La., to the country, a place called Bayou Black.
Imagine two parallel roads winding for 20 miles with a broad, dark ribbon of water--the bayou--in between. Imagine scattered farmhouses with tin roofs and broad porches set on wide lawns of St. Augustine grass. Imagine a sea of sugar cane surrendering eventually to swamp and hardwood forest full of cypress and moss-draped live oak. That's Bayou Black, a community of maybe 200 families built not around a town square but strung out along opposing banks of an ancient bayou.
My dad had taken a job with a local sugar mill and among the benefits was a rent-free company house. So we moved into the dwelling in the above photo. The house was about five miles from town, on five acres of incredibly fertile land with an aging barn and lots of chicken coops and outbuildings. We very shortly acquired a cow, six dogs, countless feral cats, a pet mink named Stinky and a mischievous pet monkey named Peanut. Peanut was a gift from one of our bayou neighbors, "Alligator" Annie" Miller. Back then, she ran a reptile menagerie from her bayou side farm. She later became a pioneer of the swamp tour industry.
I was the second of six sons and this was boy paradise. From our house, the bayou was just across a rutted road paved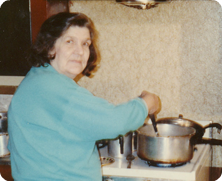 in clam shells. It was our fishing hole and our swimming pool--we just had to watch out for the snapping turtles and occasional water moccasin. The cane fields, woods and swamps were our playground, where we take long rambles and where, in spring and summer, we hunted alligators, caught crawfish and frogs and collected live snakes for Alligator Annie. In the fall, we hunted squirrel, rabbit and raccoons. The latter we sold into a brisk market for both the meat and hide, adding a few dollars to our usually depleted piggy bank.
My dad's day job was payroll clerk for the sugar mill but his real passion was the outdoors; my mom was a fun-loving Cajun who stayed home to look after her rambunctious boys. She knew how to dance the Cajun two-step; she cooked a really mean gumbo and a killer oyster spaghetti.
Almost everyone on Bayou Black (except my dad, an interloper from backwoods Arkansas) was Cajun. People of my mother's generation or older still spoke Cajun French, a patois of perfectly fine 19th Century country French and a smattering of English. Almost everyone worked in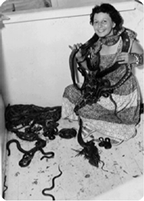 sugarcane but work, in a strange way, seemed far from the center of bayou life. Every family had a boat--or at least a pirogue, the Cajun canoe--tied up to homemade docks and much free time was spent fishing and hunting and otherwise collecting the bayou's bounty of wild things for the pot.
Cajuns are sociable folk. They love to eat, drink and dance, and the center of bayou social life was Elmo's Bar, a combination grocery store and honky-tonk, named for Elmo Giroir, its owner. A typical bayou scene: Elmo, out fishing, had caught a 120-pound loggerhead snapping turtle, a creature whose head was the size of a cantaloupe and whose shell has massive raised ridges that made it look prehistoric. After a suitable period of display in a washtub atop the bar, Elmo dressed the turtle and cooked sauce piquant for the whole bayou. The food was free; people came on Saturday night and plunked coins in an aging jukebox full of Cajun music and Fats Domino records (six songs for a quarter) and ordered copious amounts of beer from the bar. In typical Cajun fashion, this turned into what the Cajuns call a fais-dos-dos--a party for all.
We lived in that house on the bayou from 1957 to 1968, when my dad quit the mill to take a job in town. And in that period, I absorbed the landscape, characters and cadence of speech that have informed all of my novels and provided the setting for my Catahoula Bayou Trilogy.
And while I've lived abroad and in many fine cities in the U.S., Bayou Black will always be "home" to me.--Ken Wells