My George Rodrigue: Swamp Dog #1
I'm happy to report that one of my favorite possessions -- an original Swamp Dog by the late and much missed Louisiana artist George Rodrigue -- is now hanging in the main branch of the Terrebonne Parish Library in Houma, La. I negotiated an open-ended loan with my friend and library director Mary Cosper-LeBoeuf and she has found a happy spot for it on the second floor. (The pic on the left is my daughter Becca posing under it when it hung in my Manhattan apartment.) The work had been in storage for a year as we continue to (slowly) remodel our Chicago apartment and it pained me that it was sitting in a crate and might well be sitting for another year. So I decided I ought to share the joy it gave me with the library patrons of my home town. So stop by to see it (and check out a good book while you're at it.)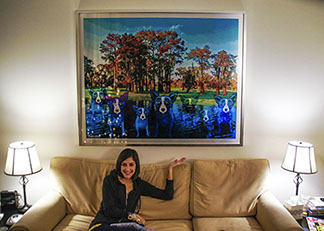 As for the backstory to this: I became friendly with George back in 2009 when I approached him to create the cover for my Young Adult novel, Rascal: A Dog and His Boy, which was coming out the following year. I was a fan of George but didn't know him at the time. He was a bona fide international pop-art star and had not taken a commission in 20 years and I didn't actually hold out much hope that he would take on my book cover. But a mutual friend arranged an introduction with George and his wife Wendy. They turned out to be the nicest people in the world. I sent them the Rascal manuscript. They seemed genuinely charmed by the fact that Rascal was undoubtedly the only book in all of literature narrated by a Cajun beagle. George was proud of his Cajun roots and had been a lifelong champion of Cajun culture, his wildly popular and iconic Blue Dog paintings and other art objects being a manifestation of that. My pitch to him was: "George -- you've got all those Blue Dogs. How 'bout painting a brown one?" He chuckled and in short order said yes. Soon he produced a painting that was rendered into the very handsome, Rodriguesque beagle on the cover. And by the way, the original painting was bought by Don Sanders, the Houston businessman and philanthropist, who is the biggest collector of Rodrigues in the world. It was temporarily on loan to the Rodrigue Gallery in Lafayette, La., for an exhibit last year and I was thrilled to be able, during a visit to Louisiana, to drop in and see my pup in his original glory. I took a picture (below.)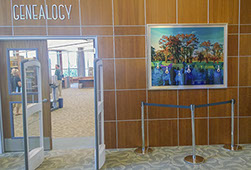 George's Swamp Dog series incorporates the Blue Dog but they aren't paintings. Instead, George took pictures with a digital camera of one of his favorite views in the Henderson Swamp in southwestern Louisiana. Then, using Photoshop and other image manipulation software, he interposed the Blue Dogs in various positions in the swamp. He played with the swamp colors using Photoshop filters and then transformed the various layers into one high-resolution image. He then had them printed and framed in aluminum. For a more detail explanation of the process by Wendy Rodrigue, click this link. As to how this one came into my possession -- I happened to be in Louisiana, guiding a group of Georgia travelers on a tour of Cajun country, and one of our stops was the Rodrigue Studio in Lafayette. And there on the walls were several Swamp Dogs. I knew nothing of them until that moment. I was instantly mesmerized and later called George just to say how much I loved them and to inquire about the process. I wasn't asking to buy one. I'd seen the price tags in the gallery! George was happy that I'd called. He patiently walked me through his concept and was clearly excited about the series. "Nobody else is doing this kind of thing," he said. Then he turned the tables. "Do you want to acquire one?" he asked.
"Well," I stammered, "yes, but I'm a working guy, George." I admitted I'd peeked at the gallery prices.
He laughed and said, "We can probably work something out if you're serious." I was and we did.
I was living in New York City then and when my Swamp Dog arrived in a crate at my apartment, I very nearly cried with joy. And I'm very happy with its place of honor now. (Home)