Floating Off the Page/Herd on the Street/Collections from The Wall Street Journal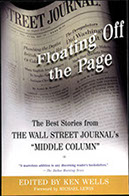 What, you may ask, are feuding nudists, dueling translators of the Bible into Klingon, and the makers of high-quality prison underwear doing on the front page of "The Wall Street Journal?"" Veteran "Journal" reporter and Page One editor Ken Wells provides the answer in this collection of the most entertaining and memorable pieces from the renowned "middle column" of the "Journal."
On any given day, millions of "Journal" readers put aside the serious business and economic stories of the day to focus first on the paper's middle column -- the "A-hed" in "Journal" parlance. There, they find these stories and more, pieces that cover unexpected, odd and amusing topics that readers unfamiliar with the "Journal" wouldn't expect to find in so august a publication, stories crafted with wit, whimsy and wry understatement that are the hallmarks of the "Journal's" best writing. Here are just a few:
*How to throw your grand piano 125 yards
*Is golf played up the side of a bear-infested mountain in blizzard conditions still really golf?
*Why more people than you might imagine get a kick out of smoking toads.
*How we found the biblical Garden of Eden, just past the orange juice factory.
*The very latest developments in sheep orthodontia.
The bit of high-profile real estate that the middle column occupies once held a tip sheet on the stock market, until legendary managing editor Barney Kilgore decided to introduce a tonic or a diversion -- a story so light that it has been said to "float off the page." Ever since, the middle column has been a daily haven for harried business readers.
With selections chosen by Ken Wells, one of the Journal's most accomplished writers and feature editors, the book is the perfect elixir for "The Wall Street Journal's" millions of regular readers, and for all admirers of innovative prose.
"A terrific collection of the most memorable stories from the off-beat front-page column..."--Publishers Weekly
Herd on the Street
Goldfish surgeons?
Pets on Prozac?
A Hollywood agent for bugs?
A law requiring farmers to spend 'quality time' with their pigs?
Truth is sometimes stranger than fiction is this funny, spritely,
often provocative collection of five decades of animal stories from The Wall Street Journal.
"Artful storytelling."--Booklist