The Catahoula Bayou Trilogy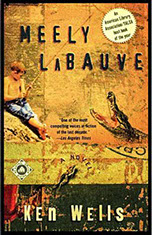 Meely LaBauve, Junior's Leg and Logan's Storm are Wells' seminal works, making up his Catahoula Bayou Trilogy. Meely tells the story of Emile LaBauve, a runty but precocious 15-year-old raising himself on the lonesome end of Catahoula Bayou. He is brave and buoyantly optimistic despite the death of his mother years before, the frequent absence of his wayward but loving (and still grieving) father and the poverty into which he has descended. School for Meely is long walk down a dusty road on the days he's not too occupied trying to shoot his supper. Atop all that, he has to deal with the predations of Junior Guidry, the bayou bully, who considers badgering Meely his favorite sport and whose bad intentions inform the plot. From Meely's encounter with first love in Cancienne's corn patch to a calamitous car chase down a winding gravel road, Meely is brisk, lively story-telling in a voice that is singular and unfaltering. It will take a flying gator, some well-place red ants and an unflappable country lawyer to try to set things right.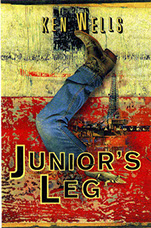 In Junior's Leg, Wells stands the story on its head and takes on the darkly comic and redemptive tale of Junior Guidry, who,15 years out of Catahoula Bayou School, is living one-legged, divorced and depressed in a storm-damaged double-wide trailer on the edge of a dismal swamp. He intends to drink himself to death after squandering a huge settlement from an oil-rig accident that cost him a leg a decade before. Enter Iris Mary Parfait, a good woman (and, it turns out, a distant cousin of Meely's) running from a bad, bad man. She invades Junior's dilapidated dwelling seeking shelter, thinking it abandoned, Discovering the dissolute Junior, she repels his coarse efforts to evict her, then sets about to reform more than his drinking habits. When Iris Mary's past catches up with her, Junior faces the choice of his life--to reclaim his fortune or redeem himself as a man.
Logan's Storm tells the epic story of Meely's father, Logan LaBauve who, in Meely LaBauve, is on the verge of being framed by Junior and his racist uncle, a local cop. The reason: Logan has come, brandishing a shotgun, to the rescue of Meely and Meely's black friend, Chilly Cox, after Junior and Uncle waylaid them after Meely got the better of Junior in an earlier school-yard altercation. No Guidry can allow himself to be humiliated by a LaBauve. Logan is already known to the law as a hard-drinking hell raiser and Meely, figuring the deck is stacked against his dad, advises him to flee and take Chilly with him. Thus begins an odyssey that takes Logan clear across the treacherous wilds of the Great Catahoula Swamp (and the Jim Crow South) on a mission to take Chilly to the safety of family in Mississippi. That accomplished, Logan strikes out for a job on a gator farm in Florida with a new-found love interest--a journey that takes him straight into the path of a killer hurricane welling up out of the Gulf. It will take all of Logan's courage and swamp cunning to save himself and those thrust into his care.
What the critics say...
"One of the most compelling voices in fiction of the last decade"--The L.A. Times on Meely LaBauve
"A wild Southern rollercoaster ride"--Publisher's Weekly on Logan's Storm
"Flavorfully entertaining, salty and good..."--Richard Bernstein, The New York Times. on Junior's Leg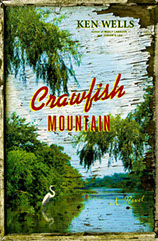 Justin Pitre's marsh island, a legacy of his trapper grandfather, is a scenic rival to anything in the Everglades and he has promised to protect from all harm. But he hasn't counted on oil bigwig Tom Huff's plans to wreck this bayou paradise by ramming a pipeline through it. When cajolery doesn't sway Justin to sign over the land, Huff turns to darker methods. But Justin and his spirited wife, Grace, prove to be formidable adversaries—and the game is on.
Into this fray comes the charismatic Cajun governor, Joe T. Evangeline, who seems more interested in chasing skirts than saving Louisiana's eroding coast. The Guv, though, is a man on the edge, upended by a midlife crisis and torn between a secret political obligation to Big Oil and the persuasive powers of Julie Galjour, a feisty environmentalist. Julie clearly is out to reform more that the Guv's ecopolitics, but will his tragicomic Big Oil deals wreck both his career and his chances with the brash and beautiful activist? As Justin and Grace battle to stop this Big Oil assault, the plot thickens—and the Guv becomes snared in the web. Featuring a gumbo of eccentrics and lowlifes, a kidnapping, a sexy snitch, a toxic-waste dumping scheme, and a fishing trip gone horribly awry, Crawfish Mountain, spiced with Wells' keen eye for locale, showcases his adventurous storytelling. Yet this fight over one man's tract of sacred marsh fronts a deeper story of our place in the environment and our obligations to it.
What the critics say...
"Ken Wells is the Cajun Carl Hiaasen." -- Tom Wolfe
"Open its pages and...laissez les bon temps rouler!" —Michael Dirda, The Washington Post
"A political satire and a page-turning mystery. Like the best jambalaya, it's liberally spiced." —Bob Minzesheimer, USA Today
"A smiling, wise-cracking, back-slapping writer of down-home fiction...In the tradition of Tom Wolfe, he writes energetic satire. A novel that rollicks...and laughs at its own jokes." —William J. Cobb, the Dallas Morning News
For Young Adults: Rascal, a Dog and His Boy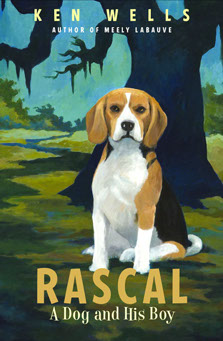 Rascal is a takeoff of Wells' classic coming-of age-novel, Meely LaBauve, the story of a plucky 15-year-old boy living by his wits on the lonesome end of Catahoula Bayou. This time, the narrator is Rascal, the precocious beagle puppy given to Meely by the kindly teacher who takes him in. Born on Voclain's Farm into a jambalaya of dogs, Rascal has lost his mother to a reckless cane truck driver and is thrilled to get Meely as his very own boy. "My boy's got a lot of dog in him," Rascal declares of their instant bond. They roam the beautiful South Louisiana low country, chasing rabbits and squirrels and exploring fields, bayous and swamps in a land that feels as pristine as the river bottoms that Huck Finn once explored. But on a night time romp, when Meely and Rascal are accidentally separated, Rascal comes face to face with a scary, trash-talking cottonmouth who seems to have an unusual interest in Meely—and warns Rascal of danger ahead.
The prophesy rings true sometime later when Meely gets trapped on a rotting bridge in the deep swamp with a vengeful, man-hating creature named Pick on his trail. It's left to Rascal, and a colorful cast of barnyard characters, including a feisty momma cat named Big Maw, to try to save the day.
"A cracking good animal story of classic pedigree--the vividness of the animal world, the high adventure, the interspecies social commerce recalls Kipling for a start."
--Project Muse, the Center for Childrens Books